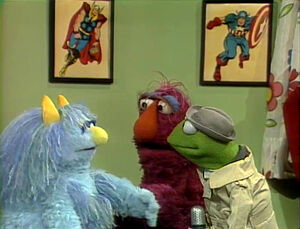 News Flash: Kermit asks Telly and Mona how they spend a rainy day. Telly enjoys practicing his bassoon, while Mona loves to play pretend. Against his will, Kermit gets to play the part of the White Rabbit.
Cartoon: Planes forms an A in the sky.
Lola sings "La Vida Es Rosa."
Film: Baby turtles are born.
Kermit the Frog describes a black rotary dial telephone that is skinny in the middle, has a round base, and a big circle with a lot of little circles, and has cords at the back. Cookie Monster describes the same telephone and adds that it is delicious. He eats the receiver, and it rings inside him.