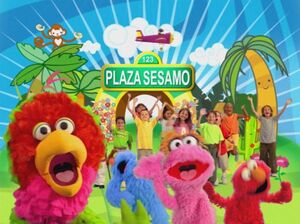 Picture
Segment
Description

SCENE
Lola can't decide whether she wants to draw or play with Manuel's blocks.

Cartoon
"I'm Curious"

Film
The floating kids form a square.

Cartoon
Two kids count 1 duck.

Film
Ducks swim and fly.
Music: Frédéric Chopin's Valse Op. 64, no. 2.

Cartoon
U for Uno
Artist: Oscar González Loyo

Muppets
Rosita and Elmo sing "I Feel So Happy".

Cartoon
The story of Scruffo the paintbrush.

Film
Looking for squares in the city.

Animation
A mother and daughter walk through a park. After coming home, the child draws a picture of the things she saw there.

Muppets
Abelardo, Pancho, Lola and the kids sing about the colors of the rainbow.

Cartoon
The colors of the rainbow.

Animation
Letter Garden: E

Animation
Planet E / e
(EKA: Episodio 742)

Muppets
Big Bird accidentally knocks over some block towers, but he puts them back up through reverse footage.
(EKA: Episodio 777)




Video
Gymnasts form an E, for Elena.

Cartoon
Two white squares try to push a great big object, and are reluctant to let a black square join them at first.

Muppets
Herry sings "Good Morning, Morning".

Cartoon
Two viewers with Picassoesque facial features in an art gallery critically examine the portrait of a viewer.
Artist: Mo Willems

Animation
Kids talk about families, often mentioning having rhinoceroces as pets.

Cartoon
A boy demonstrates why his dog's name is Happy.

SCENE
Susana and friends sing about their families and how everyone in the plaza is part of their family.
Community content is available under
CC-BY-SA
unless otherwise noted.