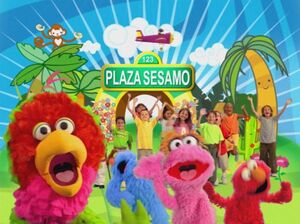 Picture
Segment
Description

SCENE
Maria and Susana liven up the lazy plaza patrons with a song.

Cartoon
The dancing birds dance fast and slow.
Artist: Karen Aqua

Song
A song about children.

Cartoon
Two blobs form a number 2.
(EKA: Episodio 740)

Muppets
Kermit tries to explain the difference between two balls, but they keep changing to make themselves the same. The balls are large and yellow with colorful stripes and the ability to talk!

Cartoon
On stage, two men form a two with their bodies.

Song
"Get On Up and Move Your Body"

Animation
Red balls jump through a hoop when a blue-striped one wants to join them.

Muppets
Monsterpiece Theater: ABCD Blue
Officers Grover and Herry help a group of people remember the alphabet.

Animation
Isadora's sneakers describe all the fun they've had this past year, as the seasons change.

Film
Interpretive dancing.

Cartoon
In the "Land of No Shoelaces," people find it difficult to play basketball, swing and run, until Edna Lovelace comes along.
Artist: ArtistMike

Film
A boy talks about his gymnastics class.

SCENE
Hazlo Tu Mismo
Abelardo and friends teach how to tie shoelaces. A girl has a problem, however; how does one tie slippers?
Community content is available under
CC-BY-SA
unless otherwise noted.