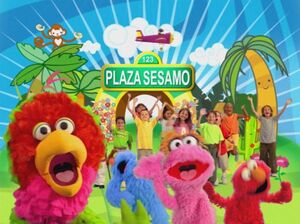 Picture
Segment
Description

SCENE
Mexican soccer player Chamagol poses for a picture for Pancho.

Cartoon
Ladies, birds, and fish march forward and backward.
Artist: Karen Aqua

Film
Kids talk about the different places they play soccer.

Cartoon
Number creatures 15

Muppets
Mr. Johnson comes to Grover's photo studio to have his portrait taken. However, Grover photographs his foot and hand instead, and has to be reminded to capture the face.

Animation
A boy shows a girl the front and back of his cat shirt.

Celebrity
Zaque bounces a soccer ball 15 times and gets buried under them.

Animation
Two balls play on a seesaw, when a third ball wants to join them (ending up in the middle).
(EKA: Episodio 750)

Film
A boy sings about the great times he's had with his father.

Animation
B/b candles

Film
Kids explore and swim in a creek.

Muppets
Kermit tries to explain the difference between two balls, but they keep changing to make themselves the same. The balls are large and yellow with colorful stripes and the ability to talk!
(EKA: Episodio 799)

Muppets
Grover flies his airplane cerca (near) and lejos (far).

Film
Ornate 15s fly by.

Animation
Various people brush their teeth to a classical piece of music.

Muppets
"Kids Just Love to Brush"
(EKA: Episodio 779)

Cartoon
B for Boca (mouth)




SCENE
After Dienton finishes his meal, he gets incky gunk all over his teeth. Manuel and Daniela teach him how to brush his teeth.