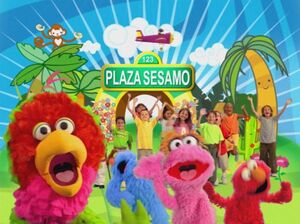 Picture
Segment
Description

SCENE
Hazlo Tu Mismo
Abelardo, the kids and a Multimonstruo play hide and seek.

Cartoon
Counting to 10
Artist: Keith Haring




Muppets
Pancho presents the letter C, for Cebra.

Cartoon
A "caballo" (horse) dresses as a "cebra" (zebra).
Artist: Oscar González Loyo

Film
A boy talks about his gymnastics class.
(EKA: Episodio 799)

Muppets
Marshal Grover and Fred figure on making it into town by nightfall until they come across a fence with no edge in sight to go around. Grover tries getting past it in various ways: going under, over and through, but he's not successful. Deciding that they're stuck for the night, Grover starts to break out the marshmallows and asks Fred for his pajamas. But Fred has another idea that Grover hasn't been listening to: they can go through the fence.

Film
William Wegman: Batty works with clay and pottery.

Film
A puzzle of a zebra is put together.

Song
"Country in the City"

Cartoon
A spring bounces under and over animals.

Song
"Take a Breath" (Re-filmed version)
(EKA: Episodio 753)

Animation
A bee sorts balloons by their red or yellow color, popping the odd, green one out.

Muppets
Ernie sings to Bert about his crazy dream about "Animals In, On and Under".

Cartoon
A very stressed hen lays 10 eggs, all of which hatch.

SCENE
Lola, Pancho and Abelardo play a game show where they identify fruit.
Notes
This episode is available for purchase on iTunes.