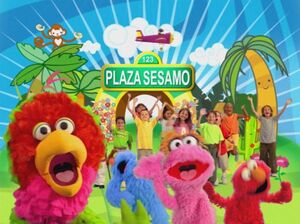 Picture
Segment
Description

SCENE
Lidia Avila performs "Sing" for the plaza patrons.

Animation
A girl claps her hands to a rhythm and a boy tries to copy it.

Video
Gymnasts form a G, for Gloria.

Cartoon
A photographer shows off his first picture of cows, his next picture of ducks, and his last picture of a pig.
(EKA: Episodio 737)

Muppets
Mr. Johnson enters a framing shop to have a painting framed, only to find that Grover works there too. Grover assumes the painting is of his great-great-grandmother, but Mr. Johnson exclaims that it's his wife. After coming out from the back room with a circle and triangle frame, Grover finally frames it with a square, but destroys the original painting by splitting it over the bald man's head.

Animation
6 blocks

Film
Kids talk about their dog's sea adventure.

Animation
Folded paper G/g

Film
Wegman dogs play various instruments.

Cartoon
A bass player counts to 6.
(EKA: Episodio 744)

Film
6 kids dance in six squares.

Cartoon
A yellow boy creature visits a music store.

Muppets
Lola watches as kids play various instruments.

Cartoon
Bobby's dog narrates why Bobby is sad.

Muppets
Cookie Monster sings "You Made Me Love You."

Cartoon
A peasant tries to woo a pretty girl by reciting the famous "Roses are Red" poem. The lines are fed to him by a poet behind a bush, whom the girl eventually runs off with.
Artist: Irra Verbitsky

SCENE
Los Monstruos También Lloran
Danna Paola helps a Ojos Locos deal with his emotions.
Notes
This episode is available for purchase on iTunes.
Community content is available under
CC-BY-SA
unless otherwise noted.