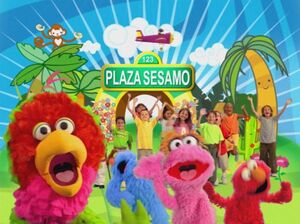 Picture
Segment
Description

SCENE
Marco Antonio Regil hosts a game show where contestants Lola and Abelardo must identify things while blindfolded.

Animation
Ornate 17s swing by.

Muppets
In the jungle, Joey and Davey Monkey see a bunch of bananas on a tree, and try to figure out how to get them down. They climb up the tree, knock the bananas off, and are about to climb down, when an elephant carries the bananas away. They decide to order a pizza instead.

Cartoon
A dolphin shows encima (above) and debajo (below).
(EKA: Episodio 802)

Film
The floating kids form a triangle.

Cartoon
A boy spies several shapes through his "binoculars" (his hands).

Muppets
Telly sings "Three Sides Now".

Cartoon
A yellow boy creature visits a music store.
(EKA: Episodio 804)

Film
Two girls attend their violin practice.

Cartoon
17 horn instruments emerge from 17 cases.

Song
"Mi Familia es Lo Mejor"

Cartoon
For each vowel, kids name an animal whose name starts with that letter.

Muppets
Instead of cookies, Cookie Monster recites a poem about galoshes -- or at least he tries.

Cartoon
A man announces the vowels.
(EKA: Episodio 749)

SCENE
Pancho helps Abelardo make up a poem about Lola.
Notes
This episode is available for purchase on iTunes.
Community content is available under
CC-BY-SA
unless otherwise noted.