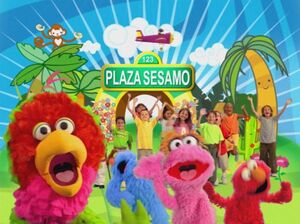 Picture
Segment
Description

SCENE
Lola and friends sing about how to greet someone.

Animation
Two crabs fight over a stick.

Film
The floating kids make an N.

Cartoon
5 birthday candles.




Muppets
NTV host Nora Nicks introduces Nick Normal and the Nickmatics singing "The Letter N."

Cartoon
A seal and a bear fight over a circus ball, but learn to cooperate.
Artist: Frank Gresham
(EKA: Episodio 745)

Film
A girl floats around in a circle.

Cartoon
A boy shares his bubbles with some kids dancing in a field.
(EKA: Episodio 750)

Muppets
Three Anything Muppet siblings sing "That Makes Three."

Cartoon
Beavers cooperate to build a house for themselves.

Film
Three cowpoke children ride their sticks along the dusty trial and find a toy workshop. The owner invites them in and spruces up their sticks to make them look like horses.

Cartoon
The different kids of "jugetes" (toys).
Artist: Oscar González Loyo

Song
"Look a Little Closer" (horse)

Cartoon
A woman identifies farm animals by their sounds.
(EKA: Episodio 752)

Muppets
Pancho sings about corn and the many foods that are made from it.




Video
Gymnasts form an N, for Norma.

Cartoon
A domestic cat paints various wild feline versions of himself on his owner's canvas.

Muppets
Marshal Grover and Fred the Wonder Horse spot a kitty stuck in a tree. Grover tries to find ways to get the kitty down such as shaking the tree trunk. He finally came to the conclusion that to get the kitty down, he would climb up the tree to bring it down. However, Fred has another idea to bring the kitty down by calling the kitty by saying "Kitty" and the kitty comes down. Now that the kitty is down, they now have another problem - how is Grover going to get down?

Cartoon
The Ringmaster presents 3 high-flying felines (cats to us) who fall into a barrel of water.
Artist: Jeff Hale

SCENE
Abelardo and Lola play a ring toss game where they must throw the circle ring over a toy to win it. Lola wins a prize, but Abelardo comes out empty handed. Cuernos plays next and gets the ring on the game operator. Cuernos takes him home with him.
Community content is available under
CC-BY-SA
unless otherwise noted.