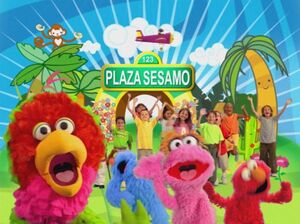 Picture
Segment
Description

SCENE
Los Monstruos También Lloran
A surprise birthday party is thrown for Andrea Legarreta.

Cartoon
Monsters have a "fiesta" (party).
Artist: Oscar González Loyo

Song
"I'm Feeling Proud"

Animation
F/f candles

Muppets
Monsterpiece Theater: "The Monsters of Venice"

Cartoon
Lapicito draws an F.

Film
Danny, a boy with Down syndrome, has a birthday party.

Cartoon
A movie director calls for 12 pilots, 12 airplanes, 12 parachutes, 12 clowns and 12 pies.

Film
Kids visit an airplane hanger and get to ride in an airplane.

Song
"Counting Alarm Clock"




Video
Gymnasts form an F, for Felipe.

Muppets
"Honk Around the Clock"

Cartoon
Lapicito draws a lowercase F.

Film
A boy likes to make model airplanes in various forms.

Animation
A picture puzzle of the letter T is put together. A man walks up to it, and calls a taxi.




SCENE
Lola loses her balloon in the sky and has no way of getting it back. The Barón Púrpura flies his plane to the rescue. Lola and Daniela return the favor by helping him push his plane back into the sky...but he forgets to get in it first.