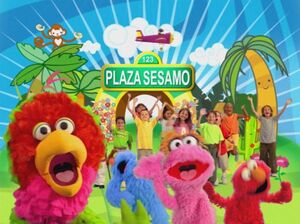 Picture
Segment
Description

SCENE
Lola listens in on a conversation between Pablo and Don Boni.

Animation
"We Are Kids From Far and Wide" - Colombia

Film
Eight children dance in a colorblock grid.

Song
"It's a Long Hard Road, But I'm Gonna Get There."

Muppets
Grover is a personal trainer of his workout video called, "Grover's Monster Workout Video." He exercise with Bobby and Sissy, but he gets tired from swinging his arms, running, and jumping up and down that he faints.

Film
The floating kids make an L.

Muppets
Abelardo and the kids sing a song about exercise.

Animation
A boomerang goes cerca (near) and lejos (far).

Muppets
In front of a screaming child audience, a Multimuppet pop star sings about playing, with Pancho, Lola and Abelardo providing music.

Cartoon
A shy girl wants to join a group bouncing a ball.
Artist: Joanna Priestley

Film
Two girls visit a activity-filled science museum.

Muppets
"Clap, Clap, Clap"
None of the scatting vocals is dubbed, but the segment cuts off before the characters can comment on their song.

Cartoon
The Ringmaster showcases 8 skating penguins.
(EKA: Episodio 745)

Muppets
Lola, Pancho, Abelardo, and a Multimuppet sing about using soap.

Cartoon
Jake the Snake demonstrates body parts.
(EKA: Episodio 758)

Muppets
Rosita and Snuffy talk about arms.
(EKA: Episodio 796)




Video
Gymnasts form an L, which stands for Laura.

SCENE
Manuel is taught a hand clap game by Lola and Daniela.
Notes
This episode is available for purchase on iTunes.