Plaza Sésamo
Plot
Going down the slide
Air date
2005
Season
9
Sponsors
O, 19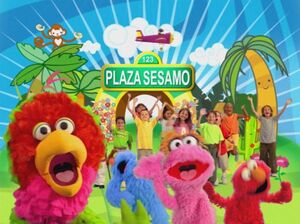 Picture
Segment
Description

SCENE
Pancho helps Lola get over her fear of going down the slide, but finds he's the one in need of support.

Film
A dog goes up and down a slide.

Muppets
Abelardo and Lola sing about school.




Video
Gymnasts form an O, for Olga.

Animation
19 popcorn kernals

Muppets
Mr. Johnson asks Grover the concession stand monster for a box of popcorn. Grover asks him if he would want the big, bigger, or biggest box of popcorn. Mr. Johnson wants the big popcorn, but Grover suggests the bigger popcorn. The two have a tug-of-war over the popcorn, resulting in the biggest popcorn box falling over Mr. Johnson's head.

Cartoon
O for Oruga
Artist: Oscar González Loyo

Song
"Somethin' Old Into Somethin' New"

Animation
19 bears in 19 chairs.

Animation
Puzzle pieces make a video of a bear.

Muppets
Big Bird describes (and acts out) a time when he lost Radar.

Song
"You Don't Have to Be a Grizzly"...to eat some honey!

Film
A zookeeper feeds some polar bears sardines.

Cartoon
An "oso" (bear) plays and dances around.

Muppets
Ernie conducts an experiment: will Bert be able to sleep if Ernie doesn't play his drums?

Film
A girl wails on a drum set.

Cartoon
Two men try to get over a wall.

Muppets
Lola and a Multimonstruo demonstrate how to play the drums.
Notes
This episode is available for purchase on iTunes.
Community content is available under
CC-BY-SA
unless otherwise noted.