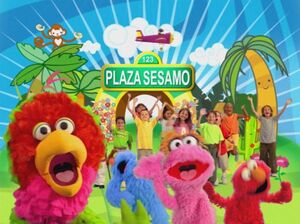 Picture
Segment
Description

SCENE
Pancho (with the help of Elefancio) shows what one needs to take a bath.

Cartoon
Underwater, there's a 9
(EKA: Episodio 750)

Film
A film insert about washing elephants at the Bronx Zoo. The song "Splish Splash" is used in part of the segment.
(EKA: Episodio 762)




Muppets
Pancho introduces the letter E, for Elefante.

Muppets
Professor Grover gives the viewer his tub tips. He names all the things you need for a bath, until his mommy points out he's forgotten the water.

Cartoon
E for Elefante
(EKA: Episodio 742)

Muppets
Abelardo, Lola and Pancho visit the zoo.

Animation
Children tell their own version of "The Frog Prince".

Animation
Fish swim in various, exotic locations.

Muppets
The trio sings "El Agua."

Cartoon
The Ringmaster presents 9 elephants.
Artist: Jeff Hale
(EKA: Episodio 762)

Muppets
Bert is having trouble getting to sleep. Ernie suggests him singing a lullaby to Bert. He sings one to the tune of Brahms' Lullaby and Bert falls into a deep peaceful sleep. Ernie tells Bert to wake up now; it's his turn to go to sleep so it's HIS turn to sing a lullaby now.

Cartoon
Mr. Tweak can't sleep because his neighbor above snores, and his neighbor below sneezes.
Artist: Abe Levitow
(EKA: Episodio 746)

SCENE
At the crack of dawn, Lola wakes up La Abuela, Pancho and Abelardo to share a new phrase she's learned - "Good morning!"