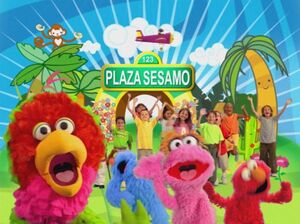 Picture
Segment
Description




SCENE
Hazlo Tu Mismo
Abelardo and the kids show the different things they use to brush their hair with.

Cartoon
Superkid brushes his hair.

Film
"Mi Pelo"
(EKA: Episodio 748)

Cartoon
How to know a hippo when you find one.
Artist: ArtistMike

Muppets
Grover attempts to sell Mr. Johnson a wig, but when he finally finds one that suits him, it turns out to be a guinea pig.

Cartoon
At a carnival, teddy bears count to 10 and back.

Film
A soccer player bounces a ball 10 times and hits a bird with it.

Cartoon
A near-sighted princess goes to the eye doctor and gets glasses.
Artist: ArtistMike

Song
"Brand New Look" - people try on glasses.

Cartoon
Roxanne and Violet Gorflach are alike in many ways, but different in others.

Muppets
Lola and Abelardo sing about things that are big and small.

Muppets
Ernie & Bert — Ernie thinks that he isn't special. Bert tells Ernie to feel his nose -- "That's an Ernie nose!" -- and then feel his hair, and wiggle his fingers. Bert says that nobody else is just like Ernie. Encouraged, Ernie tells the audience to do the same.
(EKA: Episodio 759)

Cartoon
A boy draws a portrait of himself and calls it YO.
(EKA: Episodio 750)

Song
"Lavarse las Manos"
(EKA: Episodio 757)

Cartoon
J for Jabon (soap)

Film
A gardener trims a bush to form a giraffe.




Muppets
Pancho introduces the letter J, for Jirafa (giraffe).
(EKA: Episodio 787)

SCENE
La Abuela shows Abelardo, Lola and Manuel a poster with a giraffe on it that measures them.