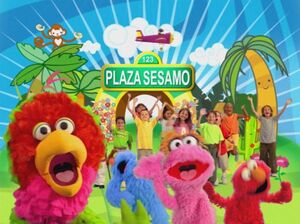 Picture
Segment
Description

SCENE
Modesto Microfono reports on the scene where he and several kids watch as the Barón Púrpura forms an 8 with his plane's vapor trail.

Cartoon
A boy draws a cow in the stars and it jumps over the moon.

Film
Kids tend to the various animals on the farm.

Cartoon
A man pulls a rabbit out of his hat, but the rabbit turns out to be a cow. "Surprise!"
Artist: John Schnall

Muppets
The Count sings "Cloud Nine".

Film
Two girls ride on the back of a truck and observe the various rural areas.

Cartoon
Lapicito draws an uppercase A.

Muppets
Elmo and Zoe demonstrate above and below with a cloud.

Cartoon
A boy chases a butterfly, and watches the clouds form into different objects.
Artist: Irra Verbitsky

Muppets
A Multimuppet farmer and kids sing about the farm.

Cartoon
Eight spiders subtract themselves.
Artist: Bruce Cayard

Muppets
Gladys the Cow assists the Amazing Mumford on stage. Mumford says he will make her disappear, but his attempts fail, so he says he'll turn her into a duck instead. She walks offstage in a huff, which means his trick did work this time.

Animation
At night, a spider swings through a museum to observe the art.

Animation
Letter Garden: A

Cartoon
The 8 Brothers Circus displays 8 elephants.
Artist: Paul Fierlinger

SCENE
Marco Antonio Regil hosts a memory game show with contestants Barón Púrpura, Lola and Abelardo.
Community content is available under
CC-BY-SA
unless otherwise noted.