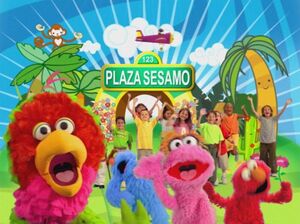 Picture
Segment
Description

SCENE
Abelardo sings about being proud that he's himself ("Me Gusta Ser Yo").

Cartoon
The different names for "Kite" in Spanish-speaking countries.

Muppets
Bip Bipadotta sings about "Air."

Animation
A piece of paper is folded into a chick.

Film
Pancho, Lola and Abelardo sing a song over footage of kids taking used bottles and using them as flower pots.

Cartoon
Ranger Armbuckle talks about how plants travel -- by sowing their seeds.
Artist: ArtistMike

Song
"Look a Little Closer" (apple tree)

Cartoon
Noodles & Nedd: Leaf Painting

Song
"Frog Struggle Song"

Cartoon
Number creatures #13
(EKA: Episodio 736)

Muppets
Kermit the Frog sings "Bein' Green" against a farm field background. (First: Episode 0722)

Cartoon
Lapicito draws an S.

Film
Kid jungle explorers sight a wild letter S.

Cartoon
A cartoon mouse riding an armadillo sings a song about 13, his lucky number.




Video
Gymnasts form an S, for Silvia.

Cartoon
The number 13 is seen as a birdhouse, in a tree, and in the sky.
Artist: Joey Ahlbum
(EKA: Episodio 736)

Film
Fay Ray shows near and far.

Animation
Cecille sings "I Wanna Be Me."

Muppets
Zoe and Baby Bear read the word "yes".
The word "yes" is removed and not replaced with anything, so Zoe points to and looks at nothing.

Animation
On a computer, a boy draws a sun setting between the mountains.

Film
Looking for circles in the city.

Cartoon
S for Sol (sun)
(EKA: Episodio 739)

SCENE
Pablo Bigotasso needs a round box for his latest work.