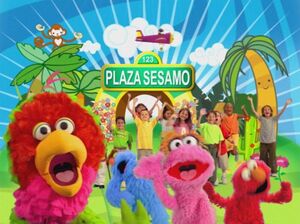 Picture
Segment
Description

SCENE
Pancho supervises a sleepover in the plaza, but can't make up his mind on whether the kids should sleep inside or outside the tent.

Cartoon
For a road trip, a group packs 11 of things.

Muppets
Telly sings "Everything Goes" as he packs his backpack for a day in the park.

Film / Animation
Lake (time-lapse)

Animation
I/i candles

Film
Kids swim in and explore a creek.
(EKA: Episodio 801)

Animation
Eleven instruments emerge form 11 music cases.

Film
Kids learn how to play string instruments as computer graphics illustrate their sounds.

Muppets
The Two-Headed Monster shares a pair of headphones.

Song
"Doggy Paddle"

Cartoon
Babies and doggies pattern: What comes next?
Artist: Keith Haring




Video
Gymnasts form an I, for Irma.

Cartoon
A hippo who lives in the country, and likes it quiet, is disturbed when a mouse, who likes it loud, moves in. (edited)
Artist: Jeff Hale

Muppets
The Count, dressed up as Elvis, sings "You Gotta Count My Blue Suede Shoes."

Song
"Look a Little Closer" (dog)

Cartoon
A lizard, a girl and a dog dance.
Artist: Karen Aqua

SCENE
Conductor Pancho shows Lola, Abelardo and Manuel how to make sound with different instruments.