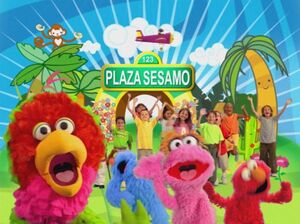 Picture
Segment
Description

SCENE
During practice, Abelardo becomes a ball hog and shoots goals all by himself. Jorge teaches him the importance of teamwork and explains to him that he should pass the ball to his other teammates.

Cartoon
A seal and a bear fight over a circus ball, but learn to cooperate.
Artist: Frank Gresham
(EKA: Episodio 745)

Muppets
Abelardo and the kids exercise and sing a song about it.
(EKA: Episodio 808)

Cartoon
A dolphin shows encima (above) and debajo (below).
(EKA: Episodio 802)

Muppets
Kermit has Grover help him demonstrate up and down by having Grover climb UP a sky-high flight of stairs -- while Kermit takes the elevator to the top. Exhausted, Grover faints and rolls DOWN the staircase.

Cartoon
The rabbit and the turtle race to the top of a building. The rabbit goes up 40 steps, but the turtle takes the elevator.

Film / Muppets
A soccer player talks about exercise with his Multimuppet training partner.

Film / Animation
Circles of all kinds are displayed as funky rap music plays.

Film
Commentators talk over a children's soccer game.

Animation
Paper fold N/n

Muppets
Count von Count sings "Lambaba" as he counts sheep and other animals that pop into the room.

Animation
"We Are Kids From Far and Wide" - Colombia
(EKA: Episodio 808)

Film
A soccer ball is kicked arriba (over) and debajo (under) a goalie.

Muppets
Elmo and Zoe demonstrate above and below with a cloud.
(EKA: Episodio 812)

Cartoon
A man counts 40 stars at night.




Muppets
NTV host Nora Nicks introduces Nick Normal and the Nickmatics singing "The Letter N."
(EKA: Episodio 806)

Animation
Paper fold N/n (blue background)




Video
Gymnasts form an N, for Norma.
(EKA: Episodio 806)

SCENE
Jorge teaches his team about the importance of exercise, despite one of the teammates is listening to music as he talks.