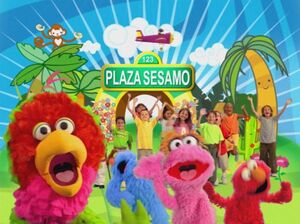 Picture
Segment
Description

SCENE
La Abuela visits the team's practice and shows them how she kicks a soccer ball.

Film
A girl talks about making bread. And how good it is when you make it yourself.
(EKA: Episodio 800)

Cartoon
Agui Aguillita talks about the importance of washing hands before eating.

Song
"Lavarse las Manos"
(EKA: Episodio 757)

Muppets
Ernie tries to keep his cookies safe from Cookie Monster by tricking him into eating a carrot instead.

Song
"What Do You Do With a Fruit?"

Animation
20 bears in 20 chairs.

Animation
In stop-motion, sandwich ingredients square-dance in a ring and arrange themselves into a sandwich, which gets a bite taken out of it in a refrigerator.

Muppets
In front of a screaming child audience, a Multimuppet pop star sings about playing, with Pancho, Lola and Abelardo providing music.
(EKA: Episodio 808)

Animation
A boomerang goes cerca (near) and lejos (far).
(EKA: Episodio 808)

Muppets
Mr. Snuffleupagus is invited to jump on Big Bird's trampoline, and the Count decides to count how many times Snuffy jumps. He counts a total of 19 1/2 -- his last jump bounces him to the top of 123 Sesame Street!

Film
Girls sing a jump-rope rhyme about naming a puppy.

Muppets
Grover flies an airplane cerca (near) and lejos (far).
(EKA: Episodio 801)

Muppets
Elmo, Telly, Rosita, Zoe, Herry, Alphonse, Humphrey and Ingrid show "next to".
(EKA: Episodio 802)

Film
A chef makes a rhythm as he cooks.

Animation
A girl claps a rhythm for a boy to copy.
(EKA: Episodio 804)

Film
Kids play "Twinkle Twinkle" on bucket, glass, and a broiler pan.
(EKA: Episodio 796)

Cartoon
A girl's glass of juice mysteriously becomes empty after she fills it.
(EKA: Episodio 748)

SCENE
Jorge Campos asks a Multimonstruo to distribute water for the team.
Notes
The "Sheep Alphabet" rap song is heard over the credits despite the fact it does not appear in the actual episode.