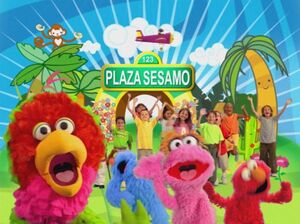 Picture
Segment
Description

SCENE
Modesto Microfono covers the big Copa Sesamo event. After interviewing Jorge Campos, they turn to the game footage where they tie with the opposing team at halftime.

Film
A soccer player bounces a ball 10 times and hits a bird with it.
(EKA: Episodio 811)

Animation
Red balls jump through a hoop when a blue-striped one wants to join them.
(EKA: Episodio 799)

Film
A song about children.
(EKA: Episodio 799)

Muppets
Grover is a personal trainer of his workout video called, "Grover's Monster Workout Video." He exercise with Bobby and Sissy, but he gets tired from swinging his arms, running, and jumping up and down that he faints.
(EKA: Episodio 808)

Film
A girl flies and makes a circle.
(EKA: Episodio 806)

Cartoon
A kid names his own body parts.
(EKA: Episodio 796)

Film
Soccer players show body parts.

Cartoon
A boy is drawn, but he doesn't have knees at first.

Song
"Elbows and Knees"
(EKA: Episodio 796)

Muppets
Zoe wants herself and Big Bird to show big and little by claiming she's big and he's little, but Big Bird points out it's the complete opposite.

Cartoon
A girl talks about her skin.
Artist: Bruce Cayard
(EKA: Episodio 749)

Song
"Skin"

Animation
Two crabs fight over a stick.
(EKA: Episodio 806)

Film
The floating kids form a T.

Muppets
Rosita and Snuffy talk about arms.
(EKA: Episodio 796)




Video
Gymnasts form a T, for Tomás.

SCENE
Back at the game, the home team wins the Copa Sesamo 3 to 1! Modesto interviews the team and is carried off by an excited fan.
Community content is available under
CC-BY-SA
unless otherwise noted.