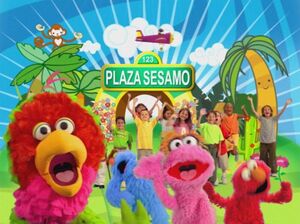 Picture
Segment
Description

SCENE
Hazlo Tu Mismo
Abelardo and the kids blow bubbles.

Cartoon
A man blows 7 bubbles.

Muppets
Ernie sings "Rubber Duckie".
(EKA: Episodio 757)

Cartoon
A boy shares his bubbles with some kids dancing in a field.
(EKA: Episodio 750)

Song
"Let's Go Tubbin' Today"

Cartoon
A "bruja" loads assorted ingredients into her cauldron...for her bath.
Artist: Oscar González Loyo

Film
A boy learns how a flute is made.
(EKA: Episodio 796)

Animation
Pencil Box B / b

Film
Kids use different art techniques.

Animation
Various people brush their teeth to a classical piece of music.
(EKA: Episodio 801)

Muppets
Big Bird talks about brushing teeth, but since he has none, he uses a horse's teeth instead.

Animation
Cecille sings "Brushin' Down the Doggies."

Song
"

Lavarse los Dientes

"
(EKA: Episodio 740)

Cartoon
B for Boca
(EKA: Episodio 738)

Muppets
Ernie tries to get baby Ernestine to say his name. It turns out she's much better at saying "Bert!"

Animation
B/b candles

Video
Gymnasts form a B, for Bertha

Cartoon
The Ringmaster introduces seven swimming seals.
Artist: Jeff Hale
(EKA: Episodio 751)

SCENE
Abelardo and a boy jump in fun ways.