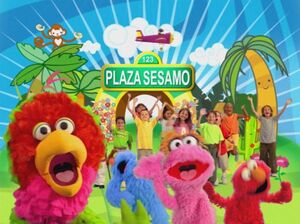 Picture
Segment
Description

SCENE
Los Monstruos También Lloran
Edith Antonio (Edith Gonzalez) prepares an Italian dinner for Pancho, but is distraught to discover she forgot the onions. Pancho arrives with the needed vegetable, and Edith cries again, this time tears of joy brought on by the onions.

Cartoon
A boy talks about how different music changes how he feels.
(EKA: Episodio 796)

Muppets
Snuffy, Alice, Elmo and Rosita play a pattern game with spaghetti and lettuce.

Cartoon
Name That Food, hosted by Don Carrot. The object of the game is to identify foods that appear on a screen and then eat that food. One of the contestants is willing to eat every food shown, while the other contestant refuses.
Artist: Elwood Smith

Film
A song about eating over footage of babies eating.

Animation
D / d candles
(EKA: Episodio 802)

Film
A girl named Jocelyn and her mom, from Chile, show how they make bread.
(EKA: Episodio 800)

Cartoon
"Fourteen Desert"
Artist: Joey Ahlbum
(EKA: Episodio 758)

Film
Two girls wander the desert.
(EKA: Episodio 751)

Cartoon
A snake slithers through the "desierto".
Artist: Oscar Gonzalez Loyo
(EKA: Episodio 751)

Muppets
Monsterpiece Theater: "Howard's End"

Cartoon
Abstract count to 14
Artist: Sally Cruikshank

Film
A family rides through the desert in a dune buggy.

Cartoon
A snake has a knot in his middle, and he can't find his end. The detective helps the snake find his end ... playing drums in a band.

Muppets
The Two-Headed Monster sound out the word "GIRA" (spin) and watch the word spin around, getting dizzy in the process.




Video
Gymnasts form a D, for Daniel.

Cartoon
Ladies, birds, and fish march forward and backward.
Artist: Karen Aqua
(EKA: Episodio 801)

SCENE
Pancho finishes his invention - a set of levers that makes his scooter move. Manuel, Daniela and Abelardo use the levers to make him go forward and backward, but when Manuel pushes the red button on the control panel, it makes him spin out of control and collapse.
Notes
This episode is available for purchase on iTunes.
Community content is available under
CC-BY-SA
unless otherwise noted.