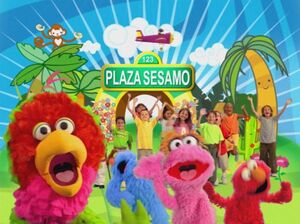 Picture
Segment
Description

SCENE
A Multimonstruo pirate and his parrot introduce P words.

Cartoon
Pirates sing a doo-wop song about how they are preparing for their journey. (out-of-sync)
Artist: Michael Sporn

Film
Two girls walk on an island together, and a map of the island is shown.

Cartoon
A captain and a first mate think they have planned ahead well for their trip at sea, but they forgot to take in the anchor.

Muppets
Grover, on a surfboard, demonstrates near and far.

Animation
A fish tries to dance like other fish.
(EKA: Episodio 802)

Film
A boy learns about ships from his grandfather, who is a captain.

Cartoon
Underwater, there's a 9
(EKA: Episodio 750)

Muppets
Ernie & Bert — Bert and Ernie go fishing. Ernie catches fish by yelling "Heeeeere fishy, fishy, fishy!", and they come flying into the boat. Bert tries it, but only catches a shark.
(EKA: Episodio 750)

Animation
A boy's drawing of a fish comes to life.
(EKA: Episodio 802)

Film
Kids make a mobile from shells they find on the beach.
(EKA: Episodio 802)

Cartoon
A "pez" (fish) swims in various areas of the deep blue, only to reveal it's his fish bowl.
Artist: Oscar González Loyo

Muppets
"We Are All Earthlings"

Cartoon
Suzie Kabloozie reads about pirates.
Artist: Mo Willems

SCENE
Lola and friends observe things can float on water and things that can sink. The pirate comes by and wants to see if his boat will float in their washtub.