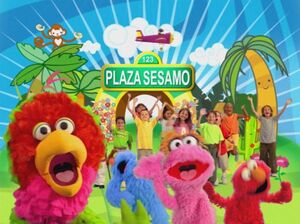 Picture
Segment
Description

SCENE
Lola Aventuras
Lola is on her underwater adventure in her pink submarine and sees sea animals: a whale, seahorse, and a school of fishes. Suddenly she sees a monster swimming in the water. She helps him to the surface by having him hold on to her submarine.

Film
Two girls go scuba diving and see the animals that lived in the ocean.

Cartoon
A lizard sings about how she likes to be "Above it All" as well as below.
Artist: Sally Cruikshank

Muppets
Monsterpiece Theater: "Monster in a Box"

Song
"I'm a Manatee"

Cartoon
The 8 Brothers Circus displays 8 elephants.
Artist: Paul Fierlinger
(EKA: Episodio 812)

Muppets
Ernie sings to Bert about his crazy dream about "Animals In, On and Under".
(EKA: Episodio 803)

Cartoon
The letter X appears on-screen.




Video
Gymnasts form a X, for Xochitl.

Muppets
Kermit the Frog explains to the viewers that he put something in a box, and whoever guessed what was in the box could keep what is in the box. Cookie Monster comes along and guesses it's a cookie, but it is not a cookie. Then after three guesses, Kermit tells Cookie Monster that it's not a cookie, it's an orange. But at the end Cookie Monster ends up getting a cookie.

Video
Eight children dance in a colorblock grid.
(EKA: Episodio 808)

Cartoon
A detective follows a path on the street which consists of a straight line, followed by dots. He finds out that the truck that paints the dividing road lines happens to sputter every few feet, which is where the dots come from.

SCENE
Lola and Pancho are surprised to find out that the strawberry tart has disappeared. Jose Mirón, a detective, tries to solve the mystery by finding some clues. They first find a green feather and a big smear of strawberry filling on the tablecloth. The clues soon lead to Abelardo, who was hungry, but he has saved half of the tart for his friends.
Notes
This episode is available for purchase on iTunes.
Community content is available under
CC-BY-SA
unless otherwise noted.