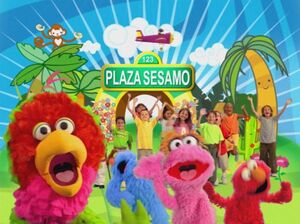 Picture
Segment
Description

SCENE
The cast sings " Planeta Tierra."

Film
Kids explore and swim in a creek.
(EKA: Episodio 801)

Cartoon
A critter rows down the "rio" (river).
Artist: Oscar González Loyo

Animation
"Rollin' on the River"

Cartoon
An animal and child collect litter from the ocean.

Muppets
"Honk Around the Clock"
(EKA: Episodio 807)

Film
Kids narrate a film of how a river is formed.

Song
"Counting Alarm Clock"
(EKA: Episodio 807)

Film
Kids are taken to a shoreline to clean up the trash.

Cartoon
With the help of his assistant, Dr. Geo shows the viewer what a mountain is.

Song
"Ja, Ja, That is the Mountain"
Artist: Jane Aaron

Animation
Lillian recalls the time she joined her parents and baby sister on a hike up the hill. Lillian hiked to the top herself, and is proud of the fact.
Artist: Craig Bartlett
(EKA: Episodio 802)

Muppets
Three Anything Muppet hippies sing "The Garden", a song about the importance of not littering. Grover and Cookie Monster make cameos.

Animation
On a computer, a boy draws a sun setting between the mountains.
(EKA: Episodio 813)

Animation
A story that uses Ña, Ñe, Ñi, Ño, Ñu about a girl sleeping outside in a tent.

Film
Ornate 12s fly through the air.




Cartoon
Ñ for ñandú (rhea)
Artist: Oscar González Loyo

Muppets
News Flash: Kermit is on a quest to interview people who have invented their own games. Elmo plays "the reporter game", where he pretends to be a news reporter, and then fights with Kermit over his microphone.

Cartoon
A song about different kinds of plants.

SCENE
Modesto Microfono and Adal Ramones argue on who is going to interview Pancho on his favorite onion until they smell the onion odor . They both agree to end the report and leave.
Notes
This episode is available for purchase on iTunes.
Community content is available under
CC-BY-SA
unless otherwise noted.