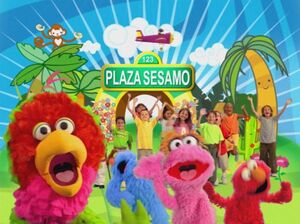 Picture
Segment
Description

SCENE
The cast sings about the importance of exercise.

Film / Muppets
A soccer player talks about exercise with his Multimuppet training partner.
(EKA: Episodio 817)

Cartoon
A beaver does his exercises, while his friends make fun of him. He then uses his strength to save his friends when the dam breaks.
Artist: Irra Verbitsky

Film
Commentators talk over a children's soccer game.
(EKA: Episodio 817)

Muppets
Elmo counts to 10 using two human hands.

Film
A soccer player bounces a ball 10 times and hits a bird with it.
(EKA: Episodio 811)

Animation
Masks count to 10 and back.
Artist: Karen Aqua

Song
"Country in the City"
(EKA: Episodio 803)

Animation
A girl skips home through the city, hearing all kinds of noises. When she gets home, she repeats all the noises she heard with a little dance.
Artist: John Korty

Film
Looking for squares in the city.
(EKA: Episodio 797)

Animation
"Cua Cua Drado"

Film
The floating kids form a square.
(EKA: Episodio 797)

Animation
A boomerang goes cerca (near) and lejos (far).
(EKA: Episodio 808)

Muppets
An Anything Muppet man holds up pictures and asks the view to find a square in each of them. Cookie Monster soon joins him when the man shows a picture of a cookie box, which Cookie Monster believes has cookies in it.

Cartoon
Lapicito draws a K.




Video
Gymnasts form a K, for Karen.

Cartoon
K for Karate
Artist: Oscar González Loyo

Muppets
Modesto Microfono interviews a Multimonstruo who karate chops words into their basic syllables. When he gets to the word "galleta" (cookie), he eats it instead.
Community content is available under
CC-BY-SA
unless otherwise noted.