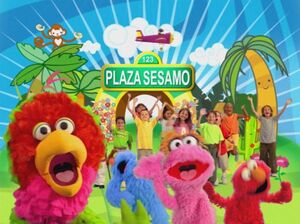 Picture
Segment
Description

SCENE
Lola Aventuras
Lola lost her cat and is looking for it. She finds 4 cats, who appeared up from behind walls and in houses, but they don't belong to her. Later, a white cat with a flower in her ear appeared and Lola proclaims that it is her cat. She counted her cat with the other cats to make 5 cats all together. With so many cats, Lola didn't know what to do with them. Then she came with an idea of having the cats all meow together to make a nice music sound.

Cartoon
A cat tries to teach the alley cats to play music in harmony.

Film
A girl sings about the pets they have at the pet shop to her customers.
(EKA: Episodio 819)

Animation
Pictures of cats.
(EKA: Episodio 760)

Muppets
Marshal Grover and Fred the Wonder Horse spot a kitty stuck in a tree. Grover tries to find ways to get the kitty down such as shaking the tree trunk. He finally came to the conclusion that to get the kitty down, he would climb up the tree to bring it down. However, Fred has another idea to bring the kitty down by calling the kitty by saying "Kitty" and the kitty comes down. Now that the kitty is down, they now have another problem - how is Grover going to get down?
(EKA: Episodio 806)

Animation
Pencil Box: G/g

Film
A girl talks about painting.
(EKA: Episodio 796)

Cartoon
Five outlines of people dance.
Artist: Keith Haring

Muppets
Kermit tests two blindfolded monsters and asks them which number they're feeling. Herry Monster minus his blindfold describes how he knew the number was a five and in the process breaks the five into pieces. Cookie Monster attempts to feel the number and Kermit tells him that he can't since its broken. Cookie Monster devours the pieces and tells Kermit it tastes like a five.
(EKA: Episodio 756)

Cartoon
Country Fiddler #5
Artist: Bud Luckey

Film
Kids on a jungle safari spot an ornate G swing through the trees.




Muppets
Pancho introduces the letter G, for Gorila.
(EKA: Episodio 772)

Cartoon
Paper crumples to reveal G, g, and Gg.
(EKA: Episodio 816)

Muppets
Little Chrissy always has fun whether he's "Wet or Dry."

Cartoon
A cat gets splashed by a passing car. He goes into a salon to get dry, then gets splashed after he leaves.
(EKA: Episodio 819)

SCENE
Don Boni shows Abelardo and Daniela a basket with 5 kittens in it.