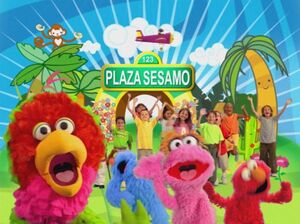 Picture
Segment
Description

SCENE
Susana sings to a little girl who has lost her teddy bear.

Film
19 bears in 19 chairs.
(EKA: Episodio 809)

Muppets
Big Bird describes (and acts out) a time when he lost Radar.
(EKA: Episodio 809)

Animation
Number creatures #19

Muppets
Abelardo, Pancho and Lola visit the zoo.
(EKA: Episodio 810)

Film / Animation
A boy connects some dots and makes a polar bear.

Song
"Take a Breath" (Re-filmed version)
(EKA: Episodio 753)

Animation
Puzzle pieces make a video of a bear.
(EKA: Episodio 809)

Film
A zookeeper feeds some polar bears sardines.
(EKA: Episodio 809)

Cartoon
A "zorillo" (skunk) scares his friends away with his stench, but one with a clothing pin over his nose stays.

Film
Kid jungle explorers sight a wild Letter Z.

Muppets
Zoe sings "My Name is Zoe".

Cartoon
Lapicito draws a Z.




Video
Gymnasts form a Z, for Zulema.

Animation
The letter Z in various typefaces.




Muppets / Cast
Carmen sings about how books can spark a child's imagination as Pancho, Abelardo and Lola appear in their dreams.
(EKA: Episodio 798)

Cartoon
Gerald's dog Sparky likes to pretend he's an alligator.

Film
Fay Ray, Batty, and Chundo are really sound sleepers - neither an alarm, nor a jackhammer nor an elephant will wake them up.

Muppets
As Herry snores, Zs come out of his mouth.

Cartoon
Mr. Tweak can't sleep because his neighbor above snores, and his neighbor below sneezes.
Artist: Abe Levitow
(EKA: Episodio 746)

SCENE
Pancho has a hard time trying to sleep due to the different sounds in his house.
Community content is available under
CC-BY-SA
unless otherwise noted.