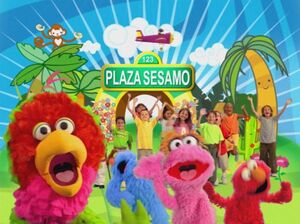 Picture
Segment
Description

SCENE
Marco Antonio Regil hosts another game show where contestants Lola and Pancho must guess the animal in the picture. The animal turns out to be a cow, which Lola wins.

Cartoon
A "vaca" (cow) hams it up for a photographer.

Muppets
Gladys the Cow sings "I'm Proud to Be a Cow".

Cartoon
A woman identifies farm animals by their sounds.
(EKA: Episodio 752)

Film
Kids tend to the various animals on the farm.
(EKA: Episodio 812)

Cartoon
Mother Brown had a Farm (15).

Video
Gymnasts form a V, for Vanesa.

Muppets
Elmo and Zoe sing "Share."

Cartoon
A photographer shows off his first picture of cows, his next picture of ducks, and his last picture of a pig.
(EKA: Episodio 737)

Film
A girl sings about her ranch and gain a new baby calf.

Cartoon
A boy draws a cow in the stars and it jumps over the moon.
(EKA: Episodio 812)

Film
Floating kids make the letter V.

Cartoon
V for Vaca
(EKA: Episodio 752)

Muppets
Elmo acts like a cow to show Gladys how she and him are the same.

Cartoon
A man pulls a rabbit out of his hat, but the rabbit turns out to be a cow. "Surprise!"
Artist: John Schnall
(EKA: Episodio 812)

Muppets
Lola, Pancho, Abelardo a Multimuppet sing about using soap.
(EKA: Episodio 808)

SCENE
Lola and Pancho show that it's important to eat a healthy breakfast.
Community content is available under
CC-BY-SA
unless otherwise noted.