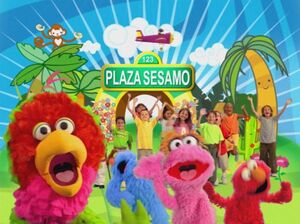 Picture
Segment
Description

SCENE
Maria, Abelardo, Lola and Pancho sing about hands.

Cartoon
A girl uses clay to make a bowl to hold her things in.
Artist: Bill Davis

Film
Five girls play a clapping game.

Animation
A mother and daughter walk through a park. After coming home, the child draws a picture of the things she saw there.
(EKA: Episodio 797)

Muppets
A barbershop quartet sings about counting floors when they go up and down in an elevator.




Video
Gymnasts form an M, which stands for Martín.

Cartoon
Counting to 10
Artist: Keith Haring
(EKA: Episodio 803)

Muppets
Big Bird observes how balloons can make one happy. Telly emerges, looking sad, with a deflated balloon, so Big Bird gives his balloon to Telly.

Cartoon
A baby demonstrates 'happy,' 'surprised' and 'sad.'

Muppets
Pancho sings about corn and the many foods that are made from it.
(EKA: Episodio 806)

Animation
Pencil box M / m




Muppets
Pancho introduces the letter M, for mono.

Animation
A puzzle of an orangutan is put together.

Muppets
At night, Ernie gets too hot and opens the window. He and Bert start hearing noises from outside, which Ernie identifies. But, since neither of them can sleep with the noise, Ernie shuts the window...until he gets hot again.

Cartoon
"Recycling Blues"
(EKA: Episodio 816)

Film
Inside a recycling plant

Cartoon
A woman visits a car dealer, looking for a small car. She will only take a car small enough to fit her clowns.
Artist: ArtistMike




SCENE
Don Boni and La Abuela load various things into a wash tub. Pancho comes by and puts them all together to fashion a go-kart.