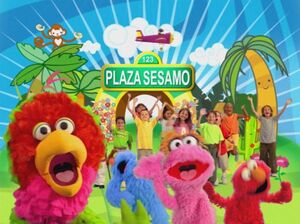 Picture
Segment
Description

Muppets
Lola, with the help of a Multimonstruo DJ, shows the various different kinds of dance, including ballet, disco and salsa. The DJ then starts playing some drums, which is the music of a rain dance. Lola joins him as thunder roars.

Cartoon
A girl and her dog go play in the "lluvia" (rain).
Artist: Oscar González Loyo
(EKA: Episodio 741)

Muppets
Abelardo, Pancho, Lola and the kids sing about rain.

Cartoon
A story about chickens using words with "ll" in them.

Muppets
Baby Tooth and the Fuzzy Funk - Chinese dragon dance

Cartoon
A cat gets splashed by a passing car. He goes into a salon to get dry, then gets splashed after he leaves.
(EKA: Episodio 819)

Film
Kids explore and swim in a creek.
(EKA: Episodio 801)

Cartoon
Water travels from a cloud to a river, into a reservoir, and through pipes, and finally ends up in a bathroom sink.

Muppets
The Count reads the story of "Snoring Beauty" played by The Countess, who is put under a spell to sleep. The Count comes by and counts her snores despite that Countess never woke up from the Count's counting or from the thunder and lighting when the Count reaches 10 snores. Next time on The Count's Storybook Theatre: The Count will read 5 stories for us.

Song
"Counting Alarm Clock"
(EKA: Episodio 807)

Film
Ornate 12s fly through the air.
(EKA: Episodio 828)

Cartoon
A rooster finds a purpose in his life when he's given the job to wake everyone on a farm.
Artist: Bruce Cayard
(EKA: Episodio 772)

Muppets
Monsterpiece Theater: "The Sun Also Rises"

Cartoon
G for Gallo (rooster)

SCENE
Abelardo and Don Boni are woken up by the sounds of a rooster, but there are no roosters on Plaza Sesamo. They question a farmer, but he only has a duck. The crowing turns out to be from Pancho's alarm clock.
Notes
This episode is available for purchase on iTunes.
Community content is available under
CC-BY-SA
unless otherwise noted.