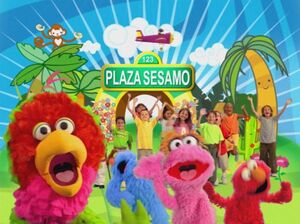 Picture
Segment
Description

SCENE
Hazlo Tu Mismo
Abelardo introduces Manuel, who shows how to button your raincoat.

Cartoon
A duckling dresses itself, naming all the parts of its coat.
Artist: Cathryn Aison

Muppets
Chispas de Informacion
Modesto Microfono interviews a kid who shows how he buttons his his coat.

Cartoon
Superkid buttons his shirt.

Muppets
Grover works at a department store. Mr. Johnson wants a suit just like the one on the mannequin, but Grover is worried that the mannequin will be embarrassed.

Animation
Abstract count to 13.
Artist: Sally Cruikshank

Film
A boy likes to make model airplanes in various forms.
(EKA: Episodio 807)

Animation
Paper is folded into a chick.
(EKA: Episodio 813)

Muppets
In front of a screaming child audience, a Multimuppet pop star sings about playing, with Pancho, Lola and Abelardo providing music.
(EKA: Episodio 808)

Cartoon
Sheep perform a rap version of the alphabet.

Muppets
Little Bird's CASA is drawn.

Cartoon
The number 13 is seen as a birdhouse, in a tree, and in the sky.
Artist: Joey Ahlbum
(EKA: Episodio 736)




Video
Gymnasts form a Y, for Yolanda.

Cartoon
Pencil box: Y/y

Muppets
Bip Bipadotta sings about "Air."
(EKA: Episodio 813)

Cartoon
A "yac" (yak) gets his fur blown off in the winter wind.

Film
How air is used at the seashore.

Cartoon
The different names for "Kite" in Spanish-speaking countries.
(EKA: Episodio 813)

SCENE
Abelardo and Lola both give their reasons for using the wind.
Community content is available under
CC-BY-SA
unless otherwise noted.