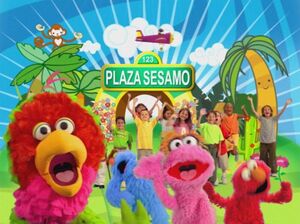 Picture
Segment
Description

SCENE
Los Monstruos También Lloran
Lola is sad that her phone isn't ringing. Eduardo Santamarina comes by after hearing Lola's cries and tries to find out what's wrong with her phone. He first tries to talk in the speaker, rocking it to sleep with a lullaby, and then giving CPR to the phone hoping it would be alive.

When nothing works, Eduardo looks around the phone and finds out that the cord to Lola's phone has been unplugged. When the cord is plugged in, the phone starts to ring, but Lola doesn't answer it because she wants to listen to the phone ring.

Cartoon
An alien crashes on Earth and uses a "telefono" (telephone) to get help.
Artist: Oscar Gonzalez Loyo
(EKA: Episodio 733)

Muppets
Kermit the Frog describes a black rotary dial telephone that is skinny in the middle, has a round base, and a big circle with a lot of little circles, and has cords at the back. Cookie Monster describes the same telephone and adds that it is delicious. He eats the receiver, and it rings inside him.
(EKA: Episodio 769)




Muppets
As Pancho makes an important phone call, Lola visits the inside of the telephone operator's office. (music and sound effects removed)

Cartoon
The Ringmaster presents four lions.
(EKA: Episodio 826)




Video
Gymnasts form a T, which stands for Tomás.
(EKA: Episodio 820)

Cartoon
Lapicito draws a T.

Muppets
The Count sings "Counting for Fun" to Natasha.
(EKA: Episodio 826)

Film
Four kids dance in four blocks.




Muppets
Pancho turns on his TV to show the letter T, for Tortuga.

Cartoon
T for Tortuga

Film
Kids visit a turtle sanctuary, leading to a song about turtles.

Cartoon
Lapicito draws a lowercase T.

Film
The floating kids form a T.
(EKA: Episodio 820)

Cartoon
T for Tigre (tiger)

Animation
Four butterflies fly across a film of a waterfall.

Cartoon
A boy tries to catch a butterfly, but has no luck. One of them then flies onto his nose.
(EKA: Episodio 798)

Muppets
Grover sometimes imagines what it would be like if he had a very small nose, a nose so large that the weight of it knocked him over, or the trunk of an elephant. After his nose returns to normal, he wonders why he has a craving for peanuts.
(EKA: Episodio 798)

Cartoon
Kid names his own body parts.
(EKA: Episodio 796)

Film
A song about children.
(EKA: Episodio 799)

Cartoon
A boy spies several shapes through his "binoculars" (his hands).
(EKA: Episodio 805)

Film
Ornate 4s fly through the air.
(EKA: Episodio 802)

SCENE
Vicente arrives to the plaza and tries to sell a monster a toy. The monster is hot and takes a fan. He gets even hotter so he now had two fans. He's still hot so he takes two more fans, totaling to four. The salesman shows him an easier way to get cool: an electric fan, but when he turns it on, the monster is blown away.
Community content is available under
CC-BY-SA
unless otherwise noted.