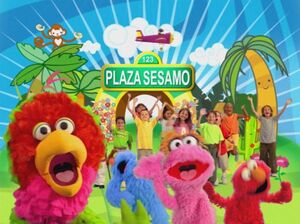 Picture
Segment
Description




SCENE
Lola Aventuras
Lola is out in outer space and is trying to find 9 planets. Pancho appears as Captain Onion to help guide Lola to each planets. Every time Lola lands on a planet, Pancho ask if there is any onions on that planet, but Lola couldn't find any on each planet. In the end, Lola has found all 9 planets, but she never found any onions for Pancho.

Animation
Planet J/j

Muppets
"We Are All Earthlings"
(EKA: Episodio 824)

Cartoon
A girl explains the concept of relativity by explaining how her house is a part of a neighborhood, the neighborhood is part of a city, the city is part of a country, etc.

Film
Kids visit an observatory.

Cartoon
Lapicito draws a J.




Video
Gymnasts form a J, for José.

Muppets
The Count sings "Cloud Nine".
(EKA: Episodio 812)

Cartoon
A boy chases a butterfly, and watches the clouds form into different objects.
Artist: Irra Verbitsky
(EKA: Episodio 812)

Animation
A white shell is uncovered in the sand.

Cartoon
Underwater, there's a 9
(EKA: Episodio 750)

Film
Kids make a mobile from shells they find on the beach.
(EKA: Episodio 802)

Cartoon
Fish that are pequeno (little) get eaten by fish that are grande (big).

Muppets
At night, Ernie sings "I Don't Want to Live on the Moon."
(EKA: Episodio 802)

Animation
Sea creatures play with a ball.

Song
"Starfish"

Cartoon
Noodles & Nedd: Leaf Painting
(EKA: Episodio 813)

SCENE
Pablo Bigotasso, Lola and some kids make a collage.