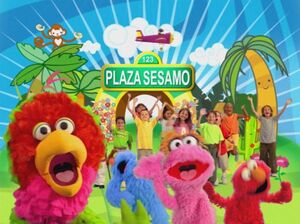 Picture
Segment
Description

SCENE
Susana, Lola and Abelardo sing about asking questions.

Cartoon
Lapicito draws a P.

Muppets
Big Bird talks about asking questions, demonstrating so by asking Zoe why she has banana on her head. Her answer is because she wants to show him her "Banana Dance".

Cartoon
A "pez" (fish) swims in various areas of the deep blue, only to reveal it's his fish bowl.
Artist: Oscar González Loyo
(EKA: Episodio 824)

Film
A girl talks her mother, a dolphin trainer, and she gets to swim with them.
(EKA: Episodio 802)

Song
"I'm Pretty"
(EKA: Episodio 802)

Film
Ornate 15s fly by.
(EKA: Episodio 801)

Animation
All living things need clean water.




Film / Muppets
Ducks swim and fly. Telly, Vern and Zoe interrupt the film half-way to read the word "PATOS". (ducks).
Film only: (EKA: Episodio 797)




Video
Gymnasts form a P, for Pedro.

Cartoon
Lapicito draws a lowercase P.

Celebrity
Zaque bounces a ball 15 times and gets buried under them.
(EKA: Episodio 801)

Cartoon
A loud-voiced girl talks about her dog Pete.
Artist: Bruce Cayard
(EKA: Episodio 825)

Muppets
Grover goes to the doctor for a check-up, and describes to the viewer what the doctor is doing. Grover gets scared when it's time for a booster shot, but is so scared that he doesn't notice when he gets it.

Song
"Elbows and Knees"
(EKA: Episodio 796)

Cartoon
A boy is drawn, but he doesn't have knees at first.
(EKA: Episodio 820)

Film
Kids talk about the different places they play soccer.
(EKA: Episodio 801)

SCENE
Modesto Microfono interviews a monster nurse. When a ball is hurled his way, she and Manuel provide some medical aid.