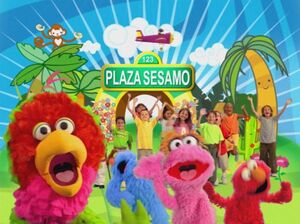 Picture
Segment
Description




SCENE
Pablo Bigotasso makes a portrait of Adal Ramones. His first painting is too abstract for his taste, as the face its not the same. Pablo paints a new one and it ends up resembling the Mona Lisa (but with Adal's face).

Cartoon
The story of Scruffo the paintbrush.
(EKA: Episodio 797)

Film
A child explains that he can paint anything.
(EKA: Episodio 829)

Cartoon
L for Luna - A astrologist spies the word "luna" in the sky.

Muppets
Grover hides under his blanket, pretending he's on the moon.

Cartoon
"Moonshine"

Film
The floating kids make an L.
(EKA: Episodio 808)

Animation
Masks count to 10 and back.
Artist: Karen Aqua
(EKA: Episodio 830)




Video
Gymnasts form an L, for Laura.
(EKA: Episodio 808)

Cartoon
Lapicito draws an L.

Muppets
Hoots the Owl loves the night. He invites the young viewer to join him in singing "The Middle of the Night Whisper Song."

Cartoon
L for Luna - Clouds fly and land on the moon, making funny facial additions.
Artist: Oscar González Loyo




Film
A montage of the evolution of mechanical technology, from wind-up toys, to robots that can spell with blocks, to satellite transmitters.
Music: Joe Raposo

Cartoon
Subtraction song: Animals in a department store elevator accumulatively get off at each floor.

Film
The floating kids form a rectangle.
(EKA: Episodio 826)

Cartoon
A creature goes in and out of an elevator, much to the chagrin of the elevator operator.
(EKA: Episodio 821)

Muppets
The Count has built a rocket with the help of Dr. Reinbrain and plans to launch it from inside his castle. The two count down from the computer console, but the rocket doesn't take off. Indeed, Count never intended for lift-off; he plans on counting down again and again.
(EKA: Episodio 739)

Cartoon
A boy draws a cow in the stars and it jumps over the moon.
(EKA: Episodio 812)




SCENE
Abelardo watches as a Multimuppet astronaut prepares to launch into space. However, Pancho does not believe it's a real rocket and goes inside to prove it. He ends up blasting himself into outer space.
Community content is available under
CC-BY-SA
unless otherwise noted.