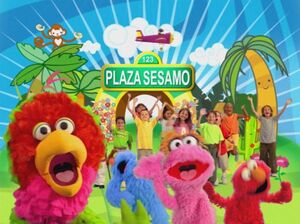 Picture
Segment
Description




SCENE
Lola Aventuras
Lola is on a safari in the jungle and looking at animals. She sees elephants, giraffe, zebras, crocodiles, rhinoceros, and lions. When a balloon lady comes by, Lola reveals that she is not in the jungle, but at a zoo.

Cartoon
A map of Africa morphs into the shape of animals that are found there.

Muppets
Telly pretends to be an elephant, a goat and a lion.
(EKA: Episodio 762)

Cartoon
How to know a hippo when you find one.
Artist: ArtistMike
(EKA: Episodio 811)

Muppets
Pancho presents the letter H, for Hipopotamo.
(EKA: Episodio 758)

Cartoon
The detective sees a hippo bouncing on a trampoline, and wonders how the hippo can bounce, since hippos are heavy, but the hippo thinks that he is light.

Film
Letter Garden H/h

Cartoon
Number Creatures #18
(EKA: Episodio 757)

Muppets
Ernie sings to Bert about his crazy dream about "Animals In, On and Under".
(EKA: Episodio 803)

Cartoon
The dancing birds dance fast and slow.
Artist: Karen Aqua
(EKA: Episodio 799)

Film
A film insert about washing elephants at the Bronx Zoo. The song "Splish Splash" is used in part of the segment.
(EKA: Episodio 810)

Cartoon
Abstract #18
(EKA: Episodio 814)

Film
A zookeeper feeds some polar bears sardines.
(EKA: Episodio 809)

Animation
18 bears in 18 chairs.
(EKA: Episodio 814)

Muppets
Rosita and Snuffy talk about arms.
(EKA: Episodio 796)

Cartoon
A man is drawn without a nose and demands his creator makes one, but gets a series of animal noses.
(EKA: Episodio 798)

SCENE
Pancho teaches Elefancio about how air can move things.
Community content is available under
CC-BY-SA
unless otherwise noted.