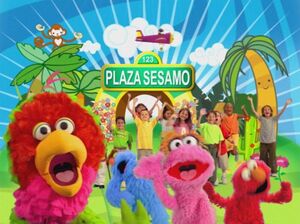 Picture
Segment
Description

SCENE
Hazlo Tu Mismo
Abelardo and the kids count up to 5 while making a tower from blocks.

Animation
"Cua Cua Drado"
(EKA: Episodio 830)

Muppets
Mr. Johnson enters a framing shop to have a painting framed, only to find that Grover works there too. Grover assumes the painting is of his great-great-grandmother, but Mr. Johnson exclaims that it's his wife. After coming out from the back room with a circle and triangle frame, Grover finally frames it with a square, but destroys the original painting by splitting it over the bald man's head.
(EKA: Episodio 804)

Cartoon
Five outlines of people dance.
Artist: Keith Haring
(EKA: Episodio 831)

Film
A song about perseverance plays as a kid tries to make his block tower.

Cartoon
A tree experiences the various weather changes during the seasons.
(EKA: Episodio 796)

Muppets
Cookie Monster sings "Eating Cookie" -- there's another reason every season.
(EKA: Episodio 796)

Cartoon
5s are found in the icy environment.
(EKA: Episodio 738)

Film
Pancho, Lola and Abelardo sing a song over footage of kids taking used bottles and using them as flower pots.

Animation
In reversed film, Q and q candles are unmelted.




Video
Gymnasts form a Q, for Quintín.

Film
A paper crumples to reveal Q, q and Qq.

Film
Two kids take a tour of a dairy factory and see how cheese is made and packaged.
(EKA: Episodio 800)

Cartoon
"Recycling Blues"
(EKA: Episodio 816)

Muppets
The Adventures of Prairie Dawn
Determined not to litter, Prairie Dawn decides to throw an empty box into a trash bin, but it runs away from her.

Cartoon
Agui Aguillita wants you to remember to take any trash you find on the ground and put it in a can.

Film
Kids are taken to a shoreline to clean up the trash.
(EKA: Episodio 828)

Cartoon
Aliens vacation on Earth for an afternoon, but they litter.
(EKA: Episodio 816)

SCENE
Pancho and La Abuela plan on cleaning the trash lying around the plaza from the party when Neftalí delivers a large crate to Pancho. They open it and Pancho tosses the packing-newspaper on the ground. He then find a trash can inside, which they use to dispose of Pancho's mess.
Community content is available under
CC-BY-SA
unless otherwise noted.