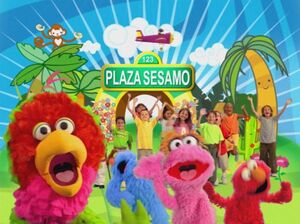 Picture
Segment
Description

SCENE
Los Monstruos También Lloran
Daniela Aedo stars in a lesson of friendship.

Cartoon
The Ringmaster showcases 8 skating penguins.
(EKA: Episodio 808)

Muppets
Bert tells Ernie to put his rollerskate away. Ernie imagines what would happen if Bert would step on it... he would most likely slide out the door, and fetch him an ice cream cone on the way!

Cartoon
For each vowel, kids name an animal whose name starts with that letter.
(EKA: Episodio 805)

Film
Eight children dance in a colorblock grid.
(EKA: Episodio 808)

Cartoon
A lizard, a girl and a dog dance.
Artist: Karen Aqua
(EKA: Episodio 815)

Film
Wegman's dogs: Battina poses for a painting.
(EKA: Episodio 829)

Muppets
Cookie Monster has a riddle: what do you get when you have one cookie between two cookies? A cookie sandwich!

Cartoon
Babies and doggies pattern: What comes next?
Artist: Keith Haring
(EKA: Episodio 815)

Song
"Washin' the Dog"
(EKA: Episodio 819)

Cartoon
Gerald's dog Sparky likes to pretend he's an alligator.
(EKA: Episodio 833)

Muppets
At night, Ernie gets too hot and opens the window. He and Bert start hearing noises from outside, which Ernie identifies. But, since neither of them can sleep with the noise, Ernie shuts the window...until he gets hot again.
(EKA: Episodio 835)

Cartoon
A man announces the vowels.
(EKA: Episodio 749)

Film
A boy learns about ships from his grandfather, who is a captain.
(EKA: Episodio 824)

Cartoon
Beavers cooperate to build a house for themselves.
(EKA: Episodio 806)

SCENE
Pancho is leaving for a sea voyage and needs help dragging out a large object from his house. Lola and Abelardo help, finally yanking a large ship out.
Community content is available under
CC-BY-SA
unless otherwise noted.