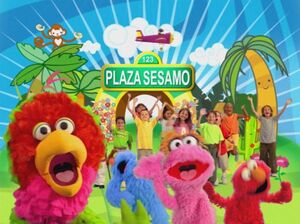 Picture
Segment
Description

SCENE
Marco Antonio Regil hosts "10 Monsters Said" with contestants Lola, Abelardo and Pancho.

Song
"Lavarse las Manos"
(EKA: Episodio 757)

Cartoon
Agui Aguillita explains that it's important to wash your hands before eating.
(EKA: Episodio 818)

Muppets
Snuffy tells Rosita that although he has no arms, his snuffle can act like one.
(EKA: Episodio 829)

Film
A girl named Jocelyn and her mom, from Chile, show how they make bread.
(EKA: Episodio 800)

Cartoon
Fish that are pequeno (little) get eaten by fish that are grande (big).
(EKA: Episodio 842)

Muppets
Pancho sings about corn and the many foods that are made from it.
(EKA: Episodio 806)

Animation
Masks count to 10 and back.
Artist: Karen Aqua
(EKA: Episodio 830)

Muppets
Zoe introduces the letter V and tries to think of a word as animals play violins around her.

Cartoon
Two "violines" (violins) play themselves.

Film
Two girls attend their violin practice.
(EKA: Episodio 805)

Cartoon
A yellow boy creature visits a music store.
(EKA: Episodio 804)

Film
Floating kids make the letter V.
(EKA: Episodio 834)

Cartoon
A violinist plays, until his strings break. (ending edited)
Artist: Jeff Hale
Edited from a Consonant Sound Poem
(EKA: Episodio 760)

Video
Gymnasts form a V, for Vanessa.
(EKA: Episodio 834)

Muppets
Elmo and a pair of human hands count to 10.
(EKA: Episodio 830)

Cartoon
Animal Department Store: 1-10

SCENE
Lola, Abelardo, and Pancho play hide and seek, with Lola as the seeker, but she continuously skips numbers, going straight to 10. After they help her count, she loves it so much she would rather count to 10 than play the game.