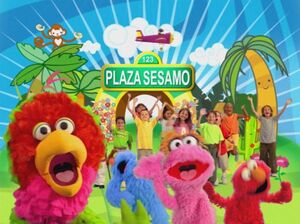 Picture
Segment
Description

SCENE
Don Boni sings "Believe in Yourself".

Cartoon
In the "Land of No Shoelaces," people find it difficult to play basketball, swing and run, until Edna Lovelace comes along.
Artist: ArtistMike
(EKA: Episodio 799)

Song
"One of These Things" (with Wegman's dogs)
(EKA: Episodio 825)

Cartoon
Superkid ties his shoes.

Muppets
Big Bird talks about brushing teeth, but since he has none, he uses a horse's teeth instead.
(EKA: Episodio 822)

Song
"Lavarse los Dientes"
(EKA: Episodio 740)

Animation
Various people brush their teeth to a classical piece of music.
(EKA: Episodio 801)

Film
Toothbrush factory

Cartoon
Big, bigger, biggest (balloons and blackbirds).
Artist: Jeff Hale

Muppets
Mr. Johnson asks Grover the concession stand monster for a box of popcorn. Grover asks him if he would want the big, bigger, or biggest box of popcorn. Mr. Johnson wants the big popcorn, but Grover suggests the bigger popcorn. The two have a tug-of-war over the popcorn, resulting in the biggest popcorn box falling over Mr. Johnson's head.
(EKA: Episodio 809)

Animation
19 popcorn kernals
(EKA: Episodio 809)

Muppets
Abelardo sits in with a music class and introduces the oboe.

Cartoon
Beginning / middle / end: a beatnik follows a trombonist's note through a long horn.
Artist: Frank Gresham
(EKA: Episodio 735)

Film
A boy learns how a flute is made.
(EKA: Episodio 796)

Cartoon
Noodles and Nedd make music.

Muppets
Telly sings "Everything Goes" as he packs his backpack for a day in the park.
(EKA: Episodio 815)

Cartoon
Lapicito draws an uppercase U.




Video
Gymnasts form a U, for Úrsula.
(EKA: Episodio 819)

Cartoon
Ghosts moan "Uuuuuuuuuuu."
(EKA: Episodio 749)

Film
The floating kids form a rectangle.
(EKA: Episodio 826)

Animation
19 bears in 19 chairs.
(EKA: Episodio 809)

SCENE
Modesto Microfono interviews some children and Lola.