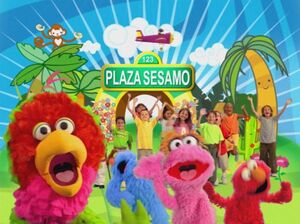 This episode guide is missing segments cut from Telefutura's broadcast.
Picture
Segment
Description

SCENE
Hazlo Tu Mismo
Abelardo and the kids dance. A Multimonstruo comes along, and his mannerisms are interpreted as dances by the kids.

Animation
Fish swim in various, exotic locals.
(EKA: Episodio 810)

Film
Interpretive dancing.
(EKA: Episodio 799)

Animation
A girl claps a rhythm for a boy to copy.
(EKA: Episodio 804)

Muppets
The Two-Headed Monster shares a pair of headphones.
(EKA: Episodio 815)

Film
A family rides through the desert on Rage Rovers.

Animation
A mother and daughter walk through a park. After coming home, the child draws a picture of the things she saw there.
(EKA: Episodio 797)

Film
A man talks about cacti as kids observe them.

Cartoon
"Fourteen Desert"
Artist: Joey Ahlbum
(EKA: Episodio 758)

Animation
A snail shell is uncovered in the sand.

Cartoon
A boy tries to catch a butterfly, but has no luck. One of them then flies onto his nose.
(EKA: Episodio 798)

Muppets
Grover sometimes imagines what it would be like if he had a very small nose, a nose so large that the weight of it knocked him over, or the trunk of an elephant. After his nose returns to normal, he wonders why he has a craving for peanuts.
(EKA: Episodio 798)

Cartoon
The story of Scruffo the paintbrush.
(EKA: Episodio 797)

Film / Animation
Lake (time-lapse)
(EKA: Episodio 815)

Cartoon
A girl and her dog go play in the "lluvia" (rain).
(EKA: Episodio 741)

Muppets
Ernie is scared of a violent thunderstorm during the night, but Bert reassures him it won't last. To cope with his fears, Ernie imagines the lightning as flashes from Olivia's camera, and the thunderclaps are someone dropping something.
Despite not being on the show, Olivia and David are still mentioned.

Cartoon
A story about chickens using words with "ll" in them.
(EKA: Episodio 836)

Song
Everyone has the same feelings, "No Matter What." Kids of all types play with a huge beach ball.
(EKA: Episodio 750)

Cartoon
Abstract count to 14
Artist: Sally Cruikshank
(EKA: Episodio 823)




SCENE
Manuel shows vacio (full) and lleno (empty) by having a bunch of people (including Lola) enter and leave the room.