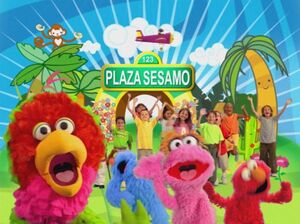 Picture
Segment
Description

SCENE
Lola asks Pancho to watch her stuffed animal, Tito. However, when Pancho's not looking, Elefancio takes him. Pancho searches frantically for him, until Elefancio brings him back.

Cartoon
A girl tries to play catch with her lazy cat, and accidentally breaks the window. She considers blaming the cat, but realizes it's her responsibility to confess.
Artist: ArtistMike

Song
"Get On Up and Move Your Body"
(EKA: Episodio 799)

Cartoon
For a road trip, a group packs 11 of things.
(EKA: Episodio 815)

Muppets
The Count, dressed up as Elvis, sings "(You've Got to Count My) Blue Suede Shoes."
(EKA: Episodio 815)

Animation
11 music cases
(EKA: Episodio 815)

Film
William Wegman's dogs, as an orchestra conductor and pianist.
(EKA: Episodio 839)

Cartoon
A "wapiti" gets his antlers stuck on a tree branch.




Video
Gymnasts form a W, for Walter.

Cartoon
Superkid brushes his hair.
(EKA: Episodio 811)

Muppets
Grover attempts to sell Mr. Johnson a wig, but when he finally finds one that suits him, it turns out to be a guinea pig.
(EKA: Episodio 811)

Song
"Mi Familia es Lo Mejor"
(EKA: Episodio 805)

Cartoon
Lapicito draws a W.

Film
Fay Ray shows near and far.
(EKA: Episodio 813)

Muppets
Elmo, Telly, Rosita, Zoe, Herry, Alphonse, Humphrey and Ingrid show "next to".
(EKA: Episodio 802)

Muppets
Grover flies his airplane cerca (near) and lejos (far).
(EKA: Episodio 801)

SCENE
Pancho attends a puppet show, but can't decide whether or not to sit near the stage, or far from it.