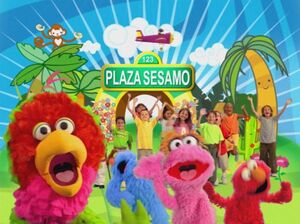 Picture
Segment
Description

SCENE
Abelardo shows Maria his "ALTO" (STOP) sign, which he uses to stop the kids from riding their bikes and scooters to make way for a farmer and his duck, Pancho and Elefancio and a monster-driven train.

Cartoon
A man draws a picture of train tracks.

Muppets
Telly tries to talk about the letter R, but the letter in question would rather do the talking for himself.

Animation
Crumpled paper R / r
(EKA: Episodio 814)

Film
Wegman dogs play various instruments.
(EKA: Episodio 804)

Animation
20 bears in 20 chairs.
(EKA: Episodio 818)

Muppets
Grover works at a department store. Mr. Johnson wants a suit just like the one on the mannequin, but Grover is worried that the mannequin will be embarrassed.
(EKA: Episodio 838)

Cartoon
Superkid buttons his shirt.
(EKA: Episodio 838)

Film
Kids explore a desert and find a cave with cave paintings.

Cartoon
A caveman invents the "rueda". (wheel)




Video
Gymnasts make an R, for Rafael.
(EKA: Episodio 814)

Cartoon
A woman visits a car dealer, looking for a small car. She will only take a car small enough to fit her clowns.
Artist: ArtistMike
(EKA: Episodio 835)

Song
"I'm Feeling Proud"
(EKA: Episodio 807)

Muppets
Mr. Snuffleupagus is invited to jump on Big Bird's trampoline, and The Count decides to count how many times Snuffy jumps. He counts a total of 19 1/2 -- his last jump bounces him to the top of a building!
(EKA: Episodio 818)

Animation
A chicken lays 20 eggs, which hatch.

Muppets
Lola, Abelardo, Pancho and the kids sing about crossing the street.

Cartoon
Why did the chicken cross the road?
(EKA: Episodio 761)

SCENE
Barón Púrpura and the kids learn about street safety.