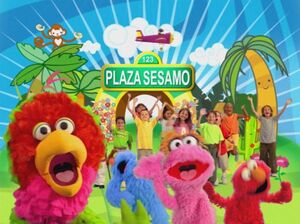 Picture
Segment
Description

SCENE
Don Boni leads the cast in a performance of "Stick Out Your Hand and Say Hello" for a timid Abelardo.

Animation
Pencil box E/e

Film
Two kids ride a boat through a swamp.

Film
"One Thousand Faces"

Film
Five girls play a clapping game.
(EKA: Episodio 835)

Cartoon
A pair of hands play the drums.
(EKA: Episodio 746)

Muppets
Telly rushes to Elmo after running all over the place, asking people what the word "welcome" means. He tries to tell Elmo, until he learns he already knows.

Animation
Planet E / e
(EKA: Episodio 742)

Film
Island (in sped-up film, kids travel to an island)

Muppets
Pancho Contreras performs "Peluda Y Azul", but Lola interrupts and wants to be in the song too, so he changes it to "Peluda y Azul (y Rosa)".
(First: Episodio 802)

Cartoon
Superkid reads a book.

Muppets
Telly tries practicing "The Blue Danube" on his tuba, but is disrupted by Elmo, who's practicing his drum. After their problem gets out of hand, they get an idea to cooperate.

Cartoon
Hortense counts four ants.
Artist: Michael Sporn
(EKA: Episodio 846)

Film
A soccer ball is kicked arriba (over) and debajo (under) a goalie.
(EKA: Episodio 817)

Cartoon
Lady Marple-Bug solves "The Case of the Four Flyers" by identifying the bird as the one that didn't fit in amongst the group of butterflies.

SCENE
Manuel and Dienton compete on a game show to find 4 pink balls in a ball pit.