Plaza Sésamo
Plot
Painting a mural
Air date
2006
Season
10
Sponsors
A, 1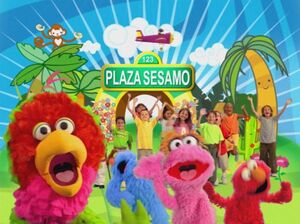 Picture
Segment
Description




SCENE
Pablo Bigotasso can't figure out what to paint, until his friends suggest he make one big painting.

Cartoon
People paint a mural of a field landscape.

Film
A visit to an aquarium.
(EKA: Episodio 741)

Cartoon
A group gives a newcomer funny looks, which hurts his feelings, but then they invite him to play marbles with them. He turns out to be a good player.
Artist: Joanna Priestley
(EKA: Episodio 816)

Muppets
Herry Monster and a girl sing "A Song for Two."
(EKA: Episodio 743)

Animation
Kids name the right pieces of clothing a construction worker needs.

Film
Kids visit a farm and learn about how sheep are herded and sheered.

Cartoon
Speech Balloon - A for Abierto

Muppets
"Daddy Helps with the Dishes"

Animation
The letter A in various typefaces.

Film
A mother makes a dance outfit for her daughter.
(EKA: Episodio 742)

Animation
Lillian recalls the time she joined her parents and baby sister on a hike up the hill. Lillian hiked to the top herself, and is proud of the fact.
Artist: Craig Bartlett
(EKA: Episodio 802)

Muppets
Bert tells Ernie not to eat cookies in bed, because he might get crumbs in the bed. Ernie decides to eat cookies in Bert's bed instead.
(EKA: Episodio 734)

Animation
The number 1 in various typefaces.

SCENE
Pablo and friends finish their mural and comment on it. Pablo adds one last touch - the name "Plaza Sesamo" on it.
Community content is available under
CC-BY-SA
unless otherwise noted.