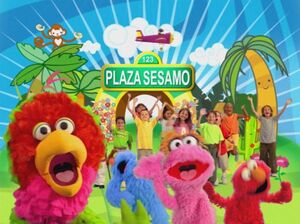 Picture
Segment
Description

SCENE
Pancho, Abelardo, Lola, and an Elvis Muppet sing and dance rock to the Vowels.

Cartoon
Suzie Kabloozie introduces an alphabet segment while she chases after Feff.

Muppets
Ernie sings "The Honker-Duckie-Dinger Jamboree."

Cartoon
A man dances to rock music.
(EKA: Episodio 749)

Film
A boy and father make a guitar.

Cartoon
For each vowel, kids name an animal whose name starts with that letter.
(EKA: Episodio 805)

Muppets
The Number of the Day
Two tubas in tutus, tap dancing, show up after The Count learns that the number of the day is 2

Cartoon
A girl dances to mambo music.
(EKA: Episodio 731)

Muppets
Modesto Microfono reports on an orchestra. He ask each of the kids on what instruments they are playing.

Cartoon
A man dances to rap music.
(EKA: Episodio 747)

Muppets
Bert goes to the park to practice his pigeon calls, but instead of attracting a pigeon that says coo, he gets a cow that says moo, an owl that says hoo, a number two, and an entire zoo.

Cartoon
A man announces the vowels.
(EKA: Episodio 749)

Film
A girl and her sister, Daniella, take dance lessons.

Cartoon
U for Uvas (grapes)

Film

A boy and his mother play the Taiko drum together.
(EKA: Episodio 757)

SCENE
Pancho, Lola, Manuel, and Daniella cooperate to paint a wall. However, they cannot decide between pink and blue when they paint the wall and end up painting one half pink and one half blue. However, Susana thinks it's a great idea that the wall has two colors.
Community content is available under
CC-BY-SA
unless otherwise noted.