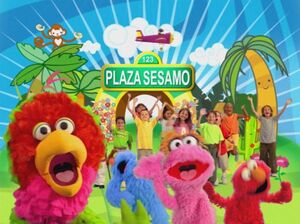 Picture
Segment
Description

SCENE
Abelardo and the gang rap about rhyming.

Cartoon
7 kids build a 7.

Muppets
Baby Bear, Rosita and Zoe cheer for the letter I.
Cartoon
Two kids wonder where some mysterious tracks on the ground come from.
(EKA: Episodio 758)

Muppets
Telly pretends to be an elephant, a goat and a lion.
(EKA: Episodio 848)

Cartoon
A woman dances to the Son Jarocho.
(EKA: Episodio 742)

Song
"Say Cheese"
(EKA: Episodio 742)

Cartoon
An "imán" (magnet) attracts the word.
(EKA: Episodio 731)

Film
A boy goes fishing.

Cartoon
I for Iguana

Muppets
Ernie and Bert notice Mona pretending to be a tree in order to attract birds. However, when Bert tries it, a giant green bird lands on his head.

Film
A girl likes to pretend she can fly.
(EKA: Episodio 731)

Cartoon
A domestic cat paints various wild feline versions of himself on his owner's canvas.
(EKA: Episodio 806)

Song
"Exploring in Your Closet"

Animation
Mailbox "I" animation

SCENE
Pablo hires a mariachi band to play for himself and Susana on their romantic dinner.