Plaza Sésamo
Plot
Cantando Por una Fruta (part 1)
Air date
2006
Season
10
Sponsors
E, 16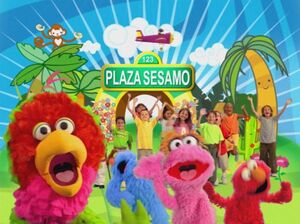 Picture
Segment
Description

SCENE
Adal Ramones hosts "Cantando Por una Fruta", a game show for fruit who love to sing. The judges are Abelardo, Lola and Pancho. The first contender is a watermelon. After the song, a piece of toast tries to get on the show, but isn't a fruit. It covers itself with fruit jelly in an attempt.

Animation
The letter E in various typefaces.

Muppets
Elmo rides a tricycle and sings "Riding My Tricycle" to express his joy and pride in the activity.

Cartoon
Agui Aguillita talks about washing fruits and vegetables before eating them.
(EKA: Episodio 760)

Film
Two girls wander the desert.
(EKA: Episodio 823)

Cartoon
A tortoise encourages a lazy hare to exercise.
(EKA: Episodio 735)

Film
A boy plays with his top.
(EKA: Episodio 733)

Animation
16 TV sets are counted.
(EKA: Episodio 825)

Film
A song about eating over footage of babies eating.
(EKA: Episodio 823)

Animation
Pencil box E/e
(EKA: Episodio 861)

Muppets

The Number of the Day: The Count counts and sings up to 16, accompanied by the Countess and their band of musicians.

Film
On a stage, a girl asks some kids what will move her hat without her touching it. The answer turns out to be the wind.
(EKA: Episodio 734)

Muppets
"Sixteen Samba"
(EKA: Episodio 851)

Animation
The number 16 is written.

Film
An Indian boy narrates how Chapati bread is made.
(EKA: Episodio 739)

Animation
Planet E / e
(EKA: Episodio 742)

SCENE
The next contestant on Adal's show is a singing fig.