Plaza Sésamo
Plot
Cantando Por una Fruta (part 2)
Air date
2006
Season
10
Sponsors
B, 5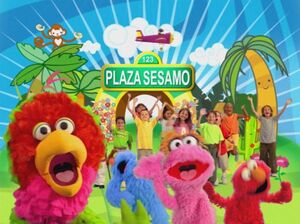 Picture
Segment
Description

SCENE
Adal Ramones hosts "Cantando Por una Fruta", a game show for fruit who love to sing. The judges are Abelardo, Lola and Pancho. The first contestant is a singing peach, who performs a country song.

Cartoon
Two boys roll down a hill.

Film
Five girls play a clapping game.
(EKA: Episodio 835)

Cartoon
Noodles & Nedd: Noodles tries to get Nedd's attention so he can be fed.

Muppets
Kermit watches Grover as he touches his nose with his toes five times. Kermit then tries to do the same, but ends up hurting himself.
(EKA: Episodio 790)

Cartoon
A B becomes the fins of a "ballena" (whale).

Muppets
Lola, Pancho, Abelardo a Multimuppet sing about using soap.
(EKA: Episodio 808)

Cartoon
Suzie Kabloozie sings "Sing."
Artist: Mo Willems
The segment briefly becomes undubbed when Suzie and Feff begin their "la-la's".




Muppets
On Monster Day, the monsters (including Elmo, Rosita, Merry and Frazzle) show Big Bird a B word, "bota" (bounce) as they bounce off a giant letter B board.
Taken from episode 3707 of Sesame Street

Cartoon
A violinist plays, until his strings break.
Artist: Jeff Hale
Edited from a Consonant Sound Poem
(EKA: Episodio 760)

Muppets
Verduberto shows what carrots can make.

Animation
Kids (in voice-over) name the right accessories a chef needs.

Video
Gymnasts form a B, for Bertha
(EKA: Episodio 822)

Cartoon
The Great Inventors Series: John Montague, Earl of Sandwich, invents a new type of food that can be eaten while playing cards.
Artist: Bruce Cayard

SCENE
Back at the show, Adal presents a singing pineapple, who sings a number song.