Plaza Sésamo
Plot
Cantando Por una Fruta (part 3)
Air date
2006
Season
10
Sponsors
U, 7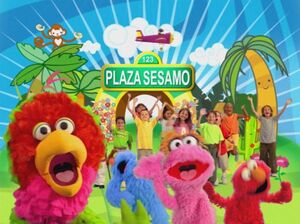 Picture
Segment
Description




SCENE
Adal Ramones hosts "Cantando Por una Fruta", a game show for fruit who love to sing. The judges are Abelardo, Lola and Pancho. The first contestant is a singing pear, but she needs help from Adal remembering the song.

Animation
Cecille sings "I Wanna Be Me."
(EKA: Episodio 813)

Film
"Simple Pleasures" is sung over footage of a dog catching a girl's frisbee on a beach.
(EKA: Episodio 745)

Cartoon
A girl dances to mambo music.
(EKA: Episodio 731)

Muppets
Telly and his pet flea practice the way someone looks when they feel. Big Bird comes along and wants to see the flea show happy. Telly reluctantly orders his flea to be happy, but when he gets happy, he ends up breaking the wall in excitement.
(EKA: Episodio 865)

Cartoon

Two viewers with Picassoesque facial features in an art gallery critically examine the portrait of a viewer.
Artist: Mo Willems
(EKA: Episodio 797)

Song
"It's All Right to Cry"
(EKA: Episodio 733)

Cartoon
U for Uvas (grapes)
(EKA: Episodio 864)

Muppets
The Number of the Day: 7
Seven dancing chickens show up for the number of the day.

Film
On his way home from school, a boy hears various noises.

Cartoon
A "naranja" (orange) falls from a tree and makes juice.

Muppets
Elmo and Zoe watch Jock Soto and Lourdes Lopez cooperate to dance ballet, and dance with them.

Song
"Mommy's Lap"

SCENE
The final contestant (an orange) performs a song about her friends, despite the fact that they're not fruit.